True Vision Production (TVP) has sent  condolence messages to Azam Media Group following the untimely death of its five crew members, who passed away recently of a tragic car accident, occurred in Shelui-Igunga.
Those who died in the fatal accident were Charles Wandwi (Camera Operator), Florence Ndibalema ( Sound Technician), Said Hassan (Camera Operator), Salim Mhando ( Vision Mixer) and Silvanus Kasongo ( Broadcasting Technician).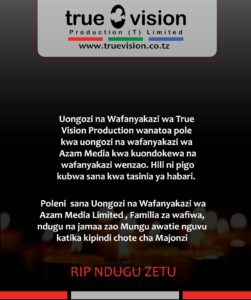 They were on their way to Chato to attend the inauguration of Burigi National Park that was graced by president John Pombe Magufuli.
David Sevuri said TVP management and staff express their heartfelt condolences to Azam Media management, workers, families and friends for the passing away of their loved ones.
"May the almighty God rest their souls in eternal peace and grant patience and strength to the bereaved families," said Sevuri.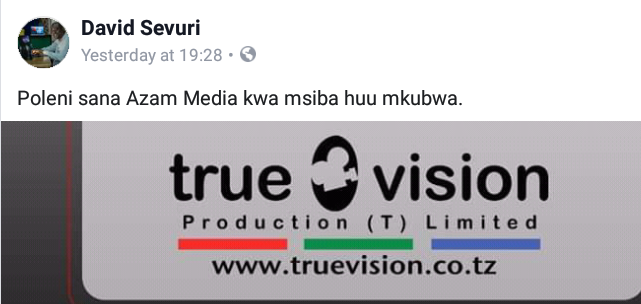 Sevuri joins several others, among others, President John Pombe Magufuli, who has also sent condolence messages to Azam Media Group,  families and friends of those whose loved ones died in the accident.
"May God give their families the courage and strength to bear the loss. It is really tragic news. May God rest their soul in eternal peace."